Getting Started: American BBQ Smokers
Are you ready to master smoking BBQ at home? From a small kettle grill for the beach to a full height double stack smoker for brisket, our original modular design gives you the flexibility to cook on an American style BBQ, grill or roast an array of different meats, fish or vegetables.
---
WHY CHOOSE A
ProQ

BBQ SMOKER?

At ProQ we design and build our products with 3 things in mind: versatility, quality and ease of use. By using these guiding principles, our barbecues are packed full of innovative features, making them hugely popular with both beginners and seasoned BBQ professionals around the world.

From a small kettle grill for the beach to a full height double stack smoker for brisket, our original modular design gives you the flexibility to cook in so many different styles. By adding or removing stackers, you can grill, roast, and smoke hot'n fast, or low'n slow with ease. The cooking chamber can also be used for cold smoking a range of foods.

VIEW OUR SMOKERS

HOW IS A
ProQ

DIFFERENT TO OTHER BBQ SMOKERS?

The modular design of our smokers is what sets us apart from most other BBQ Smokers. The ProQ can be used as a normal charcoal BBQ, an outdoor oven AND a BBQ Smoker. Many other brands of BBQ Smokers, such as the Weber Smoky Mountain, are purely smokers – meaning you will also need to buy an extra kettle BBQ or a gas grill if you want to do sizzling direct heat BBQ searing and grilling.

Our 4th generation ProQ smokers require very little assembly, so you can be set up and smoking within minutes. They are built to last too - high quality porcelain, stainless steel, aluminium and cool-touch silicone help to protect your smoker from corrosion for years to come.

VIEW THE RANGE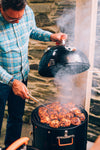 GREAT DESIGN DELIVERS GREAT RESULTS
The secret to a good BBQ smoker design revolves around a few key principles:

In-Direct Heat - the ability to protect your food from the harsh direct heat of the lit fuel (be it charcoal or wood).

Consistent Cooking Temperature - it is essential that a BBQ Smoker has the capability of maintaining stable cooking temperatures. For Low'n Slow, ideally between 95°C - 120°C (200°F - 250°F).

Efficient Use of Fuel – as the name suggests, Low'n Slow BBQ cooking takes a long time. A good BBQ Smoker will be specially designed so that your charcoal will last a long time, whilst maintaining enough heat required for cooking. Beware of cheap charcoal, it often creates too much smoke or burns out very quickly. The importance of good quality charcoal is vital. We recommend that you choose restaurant grade charcoal such as our Premium Cocoshell Briquettes.

Ability to Control Airflow - The air-flow needs to be just right in a smoker – enough air to keep your fuel burning evenly and consistently for a long time, without the need to keep refilling your charcoal basket. Too much air – the BBQ Smoker will to burn out too quickly (and create too much heat). Too little air – will create acrid smoke and ultimately extinguish your fire resulting in uncooked food!

Built to Last - to achieve authentic BBQ, your smoker will often need to be sat outside for up to 16 hours for some of the classic longer BBQ cooks or when cold smoking. This means that good BBQ Smokers need to be designed to withstand the elements. ProQ Smokers are made using premium rust resistant components that can withstand even the harshest conditions (we are based in Cornwall, so they get tested to the limit!).
EXPLORE THE RANGE
CAN I USE A NORMAL BBQ FOR BBQ SMOKING?
It is very difficult, some say impossible, to achieve authentic hot smoked, Low'n Slow style food on a normal kettle BBQ or gas grill – they are simply not designed for this purpose. That is where BBQ Smokers enter the scene. Although many BBQ smokers will look and perform differently, they are all designed to achieve this specific style of BBQ cookery.

BBQ Smokers come in all shapes and sizes and are known by several different names: water smokers, bullet smokers, vertical smokers, barrel smokers, stick burners, off-set smokers. Smokers are traditionally powered by charcoal or wood but gas electric pellet smokers are also available.


GETTING STARTED WITH YOUR
ProQ

BBQ

If you are interested in getting into authentic American style BBQ, then a BBQ smoker is a vital tool for the job.  It is great fun, hugely rewarding and the food tastes amazing.  Just choose your recipe and your favoured smoking wood and you're ready to go.  The joy of using a good BBQ smoker, is that it can be left unattended (in a safe place!) for several hours – so you can get on with the rest of your day excitedly anticipating the delicious, smoky, succulent and tender meal that awaits! Yum!

Check out our detailed guides on getting started with BBQ Smoking.
Vertical smokers (also known as bullet smokers or water smokers) are popular because they don't take up much space and are much more portable than traditional off-set smokers. Vertical smokers are often more affordable than other types of BBQ Smokers.
In terms of Low'n Slow BBQ we always recommend that beginners start with a whole smoked chicken. It tastes delicious and it is relatively easy to achieve great results without loads of practice. We recommend that you master the humble chicken before moving onto pitmaster classics such as Texan style Brisket, pulled pork or St Louis BBQ ribs.
Hot smoking is a term most commonly used to describe the cooking of cured fish such as kiln roast salmon and smoked mackerel. The term Low'n Slow is generally used to refer to a BBQ cooking style of meat.
Yes, you can. So long as the unit you decide to use for smoking protects the smoke source from excessive breeze and rainfall.
No, BBQ smoking must always be done outside.
We recommend using a digital temperature probe to ensure your food is cook to the required safe internal temperature – check out our cooking temperature guide for more information. One thing you will notice about smoked food, is that the smoke causes the flesh to turn pink (this is known as the "Smoke Ring"), which makes it quite difficult for the novice to determine whether or not the food is cooked.